UNIMOG
" The most versatile adventurer in the world on its way info the future"
its name is and remain alegend . " THE UNIMOG ".It started with 25hp
and two power take -offs, and already had four -wheel drive, differential
locks and portal axles . Thus it was able to operate a variety of implements,
It was able to do it over any ground , and it was fast enough for roads or
motorway . this combination of features , unique to this day , was the ideal
solution both for various specialist tasks and for use on rough ground
( and absolutely unbeatable when both were involved ).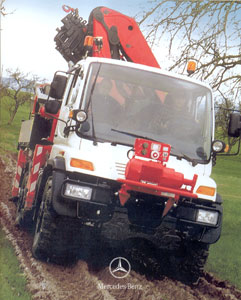 New thoughts and ideas concerning tasks and applications meant new
Demands made on hydraulic , and driving characteristics , comfort in the
Cab, instrument displays and controls . the result was a close cooperation
Between people who worked with a UNIMOG , those who developed
Implements for it , and those who manufactured it . that too is a reason
For the legendary reputation which the UNIMOG enjoys all over the world .
The new UNIMOG shows that we have not broken with this tradition
Completely reworked from the ground up , it combines the most modern
Technology with old virtues-the new generation of a legend .
The Mercedes-Benz UNIMOG has gained a secure place in a broad range
Transport and wor solutions in all future-oriented branches of industry .
With its high degree of versatility this tractor /work vehicle performs an
Abundance of tasks in small , medium and large -scale industry for which
a whole range of special vehicles would otherwise be necessary . The
Technical design allows the UNIMOG to transport enormous payloads in
In-plant use .
With 3hp/tonne ,it may legally pull twice as a conventional truck and is not
Subject to any sunday - driving ban . with top speeds of more than 80km/h
The tractor has a multitude of potential uses ; in city traffic, and on public
High-ways and motorways .
Due to its favourate cost / performance ratio and low follow-up costs ,
The low -maintenance and easy -service .
"UNIMOG is always a profitable investment ."