INTERNATIONAL BY NAVISTAR
"IT is more than ahard working truck . It's knowing your business like no other truck company "
With more than acentury of experience.International knows the the business and we know how to build trucks that don't just peform in demanding conditions .but thrive in them .So you can concentrate on running your business.
From construction dumps and refuse roll-offs to snowplow.platforms and mateial haulers . international goes beyond the expected to meet your need in toughness . In reliability . Ingetting you the exact truck youneed when you need it .backedby the kindof support only a leader can provide .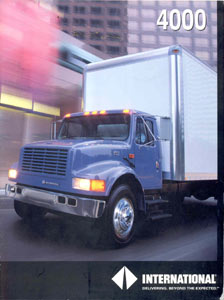 Navistar;s roots can be traced back through 166 yaers of history to 1831 .ITall began with the introduction of the Mc Cormick reaper .then the auto wagon .
followed by the international harvester.Navistar has consistently been the leading manufacturer of medium and heavy trucks in North America.
Navistar is also the world;s leading producer of mid-range (175-300HP)
diesel engines for truck and bus applications.
Navistar is atruck transportation specalist . that can provide you with:
*Complete technical assistance : application analysis and body equipment sourcing
*Truck Selection: load distribution analysis ,performance recommendations and assistance recommendations.
*Product Support : port and service ,training, quality assurance and warranty.