a- Technical Service:
ADG has a long tradition of customer support provided by trained,
Qualified service engineers and technicians, this enables us to render To our customers a high quality professional service and back-up
That a truly qualified organization should provide, and that is Synonymous wide with a renowned engineering-company. Workshops are equipped with latest diagnostic equipment including
Fuel pump, with injection calibration facilities, an engine Dynamometer handling up to 1000HP testing capactity, as well as
Mechanical workshops for engines, transmissions, suspensions,
And hydraulic systems. in addition to an electrical workshop, body
Repairs facilities, and welding workshop.
The workshops are located in the head office in Giza & in the 6th.
Of october City.
In Giza, the workshops are as follows:
* The engine workshop (2500 m)2 : for repair and overhaul of diesel
Engine
* The Hydraulic systems work-shop (50 m)2: for repair& overhauling of
Components, parts & pumps of hydraulic circuits.
* The Electrical workshop (150m)2: for repair & overhauling of electrical
equipment, cicuits, motors, starters, alternators, switch gears...etc.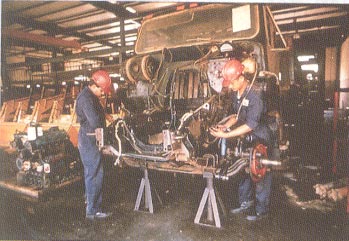 * The Fuel pumps workshop (250 m)2 : for repair, overhauling &
calibration of diesel fuel injection pumps & injectors.
* The welding & machine tools workshop (1500m )2: for welding &
machining operations, mechnical parts&prevenative maintenance
operations.
The 6th of october city workshop:
* The heavy equipment & truck workshop (10000 m)2: for repaire,
overhauling, reconditioning and maintenance operation for all types
of trucks and earth -moving equipment & engine re-power .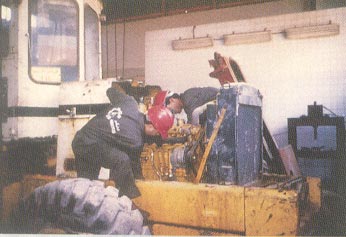 Fleet of Mobile workshops:
*ADG's fleet of 16 mobile workshops provide technical services,
maintenece, repair, pre-delivery in- spection & operations at worksites
all over Egypt. All furnished with special tools & spare parts.